Conferences And  Business Meetings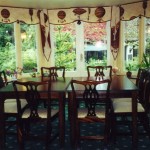 A cost effective answer to getting away from the office. Hold your conference in a unique and exclusive setting. Maximise the productivity of your day.
A quiet and relaxing atmosphere makes West Lodge Hotel the ideal conference venue. Our service is individually tailored to your needs, with a choice of food to suit the occasion.
The conference room is ideal for small meetings (up to 16), interviews, Board Meetings, Team building sessions, networking events, local society meetings or local speaker events.
We only hold one function on any day allowing delegates to use the lounge and garden areas to relax or for breakout sessions, as well as the conference room.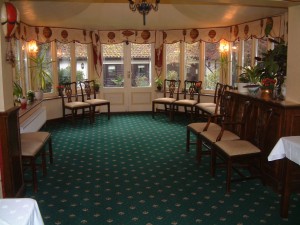 Facilities: ample free parking, air conditioning, natural lighting, free wireless internet, flip charts, projection screen.
A 'working lunch' can be arranged at the hotel to suit your particular needs. Alternatively a number of eateries are within easy walking distance.
Weekday Rates: including tea/coffee, biscuits, water and VAT
                                              Up to 10 Delegates              Up to 16 Delegates
Half Day                                       £139                                                         £177
(9.30 – 1.00 or
1.00 – 4.30)
Full Day                                        £209                                                        £289
(9.30 – 4.30)
Every effort is made to meet your requirements and as a privately owned hotel we are able to offer a high level of flexibility, providing you with an environment to maximise the productivity of your day.